Born in Manchester, England to Janet and Chris Alfieri on December 24, 1984.
Nick was raised alongside his siblings, Alex and Lucy, in Manchester. He qualified to attend the prestigious St. Ambrose School where he was regarded as a talented student and athlete. As a lad, Nick enjoyed many successes in horse riding and show jumping. Nick later excelled at rugby, playing for years at Ambrose, Lymm Grammar School and Metrovicks Rugby Club. He went on to train in Muay Thai for many years, winning the Northwest area title at super middle weight. Nick was an avid fitness enthusiast throughout his entire life.
Nick pursued a variety of career interests before finding his perfect fit in the video games industry under the guidance of dear friends who mentored him throughout his career. He started his own indie video game publishing company, Digerati Distribution, in 2013 and expanded his reach with boutique label, Big Sugar Games in 2019. As founder and CEO, Nick was passionate about his business and relentless in his desire to achieve his dreams. He was well on his way.
Never one to shy away from adventure, Nick allowed his ambition and/or his heart to lead him to live in Dubai, Florida, New Jersey, Philadelphia, Austin, Colorado, and back to Manchester, before finally settling in Austin.
Nick married his wife, Sarah, in 2017 and had his only child, Serena, in 2018. Nick was a devoted, generous, and loving husband and father. Nick made dear friends everywhere he went. Those lucky enough to be in his inner circle knew they had a friend they could always count on and one that was always good for a laugh and a beer. Nick had a heart of gold and was as authentic a human being as they come. Nick knew who he was and was never afraid to show it.
Nick is survived by his wife, Sarah Veach Alfieri and daughter Serena Jane Alfieri, of Austin; his parents, Janet and Chris Alfieri, brother, Alex Alfieri, sister, Lucy Alfieri, and grandmother, Joan Ryan, all of Manchester. He also leaves behind countless friends and colleagues. He will be dearly missed by all.
Stay strong young king. We will always love you. We will never forget you. See you again, down the road.
IN THE US: CELEBRATION OF LIFE GATHERING
FRIDAY MAY 20th 2022 | 7 – 10pm
There will be a celebration of life remembrance gathering at Eberly, 615 South Lamar Blvd. Austin TX 78704
IN THE UK: MEMORIAL SERVICE
MONDAY JUNE 6th 2022 | 1:00pm
A memorial service will be held at St. Martin's Church, Church Lane, Ashton-Upon-Mersey.
There will also be a gathering after the service at Ashton-Upon-Mersey Golf Club also on Church Lane.
The family respectfully requests that those attending do not wear black in honour of Nick's colorful character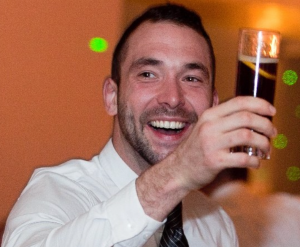 In lieu of flowers, we are kindly asking for donations to support two causes that were near and dear to Nick's heart.
New Start, The Wythenshawe Hospital Transplant Fund is a charity doing incredible work in the area of heart health. They were instrumental in saving Nick's brother's life a few years ago.
Nick often helped the homeless personally by making food and financial donations. Before his passing, he was making plans to engage in bigger efforts to help the homeless, like routine meal giving and starting a non-profit. We will continue to honor his compassion for the homeless by making a donation of a portion of the funds raised here to a cause benefiting the homeless.